2020 PBR Australian Grand Finals Winner Brady Fielder Eyes First National Title in 2021
By: Kacie Albert Wednesday, March 31, 2021 @ 3:28 PM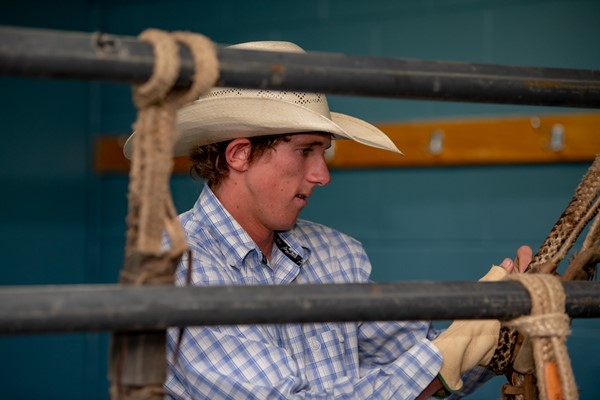 For 21-year-old Brady Fielder his 2020 season ended on a high note.
Going a near perfect 4-for-5, the Clermont-native won one of the nation's most prestigious events, the 2020 PRB Australia Monster Energy Tour Grand Finals.
"I think the biggest highlight was winning the Australian Finals," Fielder said as he reflected on his 2020 season. "I didn't really do that well towards the end of last year, but I was just lucky I finished strong."
RELATED: Brady Fielder wins 2020 PBR Australia Grand Finals
The event victory, his lone win of the season, allowed him to finish inside the nation's Top 5 for the second consecutive year, propelling him from No. 6 to No. 4 in the final rankings, 329.5 points back of eventual champion Aaron Kleier.
In 2019, his rookie year, Fielder concluded the year No. 3, 1,327.5 removed from the top ranking.
"I started the season off over in the states and it was going alright," Fielder said. "I ended up coming back and COVID came around, and I finished the year off back in Australia. It took a little while to get going again when the season started back up, but it was good to finish strong."
After riding at two early season events on home soil, getting shutout in both Tamworth, New South Wales, and Rockhampton, Queensland, Fielder, alongside fellow Queensland-native Kleier, board a plane for the United States to compete on the elite Unleash The Beast.
Fielder began his campaign in the United States on a successful note, covering his Round 1 draw at the season-launch premier series Major in New York City, making the 8 atop Chuck & Larry for 85.75 points. While he failed to replicate the success during the remainder of the event inside Madison Square Garden, Fielder finished 22nd overall to earn 3 world points.
In the following weekends, Fielder continued to find his footing, finishing 13th in Chicago to earn 5 world points, and eighth in Manchester, New Hampshire to earn 8 world points.
"It was definitely a highlight to start over in the states and do them events," Fielder said.
Fielder remained in the United States through March, returning home to Australia following the onset of the COVID-19 (coronavirus) pandemic.
"In my off time, I just did lots of work for myself just physical work to stay fit and ready," Fielder said of the six-month break from competition. "I was feeling really good, I needed the time off too, and it worked out really well. I felt really good when I came back."
Once back on home soil, and when events resumed in late September, Fielder registered eight Top-10 finishes to qualify for his second PBR Australia Grand Finals.
Fielder was then electric as action got underway for the season-culminating event at Townsville Entertainment Centre in Townsville, Queensland.
In Round 1 he logged his first qualified ride of the event when he covered Personal Space for 79 points. He then climbed the event leaderboard when he delivered the second-best score of Round 2, an 83.5-point effort on Cattle King Ray Ban.
Continuing his momentum, Fielder then won Round 3 compliments of an 83.75-point trip on Get Ya Freak On.
While he was bested in Round 4 by Ranga, bucked off in a quick 1.76 seconds, Fielder rebounded in the championship round, winning the final round of PBR Australia competition for the 2020 season via an 86-point ride on Drag Iron.
"It's the biggest event of the year," Fielder said of the Australian Grand Finals. "I rode five out of my six bulls, of which one was the re-ride, and that would have to be the biggest highlight of the year here."
"It was good, I had all of my family there, a lot of support, and it was a good show!"
Looking to 2021, Fielder, who has momentum at his back hopes for just one thing – to continue to improve.
"I always push myself to get better," Fielder said. "I will probably just stay in Australia this year, we'll see how COVID goes, and I just hope to do really good in Australia."