Richardson Eager to Conclude 2020 with Career First Australian Title
By: Kacie Albert Monday, November 16, 2020 @ 8:31 AM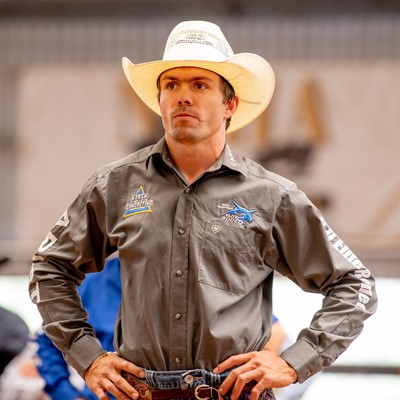 For Gresford native Lachlan Richardson, 2020 may finally be his season.
With the veteran Aussie has qualified to the prestigious PBR World Finals seven times in his career, one coveted honor has eluded him – the title of PBR Australia Champion.
"I said I absolutely need an Australian title, and will keep doing all I can until I get it," Richardson said of his decision to compete on home soil in 2020. "I got married at the end of last year and we have a baby on the way early next year so that was pretty much the main reasoning. And then life changes I guess.
"I'm happy being home and working and here now."
After beginning his season with a less-than-ideal outcome at the Tamworth Iron Cowboy, Richardson quickly found his groove.
Following a third-place result in Melbourne and sixth-place effort in Marrabel, the 28-year-old notched his first event win of the year in Victoria, at the Monster Energy Tour's Ballarat Stampede.
However, following his victory, the world paused as each country globally responded to the COVID-19 (coronavirus) pandemic.
"During shutdown I worked every day and the first month was probably really good that there was no events on because my body needed a break," Richardson explained. "When my body was right I started working out and doing everything that I would usually do and not knowing when this would all start, but I just had to be prepared. I I kept getting on practice bulls every couple of weeks until we found out there was events on so I was ready for when it all fired back up."
Working diligently to return to competition in a safe and healthy manner, PBR Australia architected a seven-city, double-heard Monster Energy Tour slate of events, culminating with the PBR Australia Monster Energy Tour Grand Finals on Nov. 20-21 in Townsville, Queensland at the Townsville Entertainment Centre.
Richardson, who began the resumption of competition atop the national standings, quickly capitalized on the opportunity, logging two additional wins and four runner-up finishes in the 12 events held since.
Most recently, on no day other than his birthday, Richardson notched his third victory in Beaudesert.
"It was pretty cool to win an event on my birthday," Richardson remarked. "That doesn't happen that often I guess. But yeah, it meant a lot, and I knew I just had to keep working hard and everything would work out. Yeah it was a good event and it would all end up being good."
"I've just got to keep working every single day at my bull riding," Richardson added of his plan for the final regular season events.  "I just have to keep at it until the very end I guess."
And while Richardson was atop the national standings, two-time PBR Australia Champion Aaron Kleier, who will attempt to make history in Townsville as the first rider to win three consecutive national titles, is hot on his spurs, and just passed Richardson for the No. 1 spot after a win in Airlie Beach, putting him 56 points ahead in the race.
"Aaron is a great rider," Richardson remarked. "I expect him to do good because the results show that. But I also can't look at what he's doing or done before. I love riding bulls and I've just got to show up with the right attitude and work ethic every time, and I guess let the best man win."
Richardson is also no stranger to having a national title slip through his fingers. In 2018, he entered the PBR Canada Finals with a stronghold on the lead, only to be overtaken by a dark horse in the race.
"It's not the first time I've been overtaken either," Richardson added. "It happens and I guess the other guys must have wanted it more than me.
"This year I'm leaving no stone unturned and I guess doing extra than I did then. And I just hope down the line it pays off."