PBR Australia Sits Down With Nicole Kasper
By: Interviewed by Sharntele Davies, words by Nicole Kasper Monday, July 22, 2019 @ 10:33 AM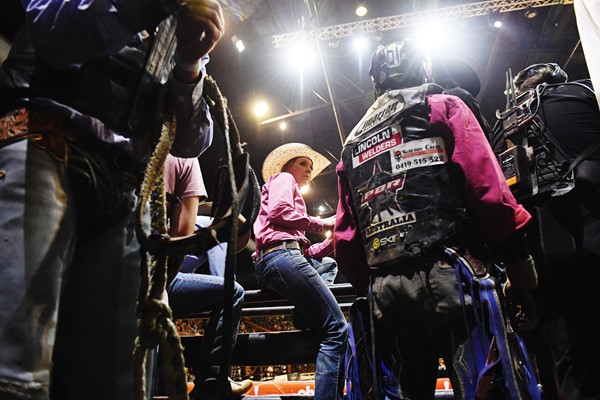 In what is widely considered a male-dominated industry, there are several key players paving the way for women in the sport. We caught up with one of our leading female stock contractors, Nicole Kasper, to ask her some of our most burning questions.
What does your day-to-day as a stock contractor entail?
My day usually doesn't start until after I get my two boys on the bus. With the drought being so bad at the moment, everything is being hand fed twice a day, so at the moment, a normal day is mostly made up of feeding. Just Dandy (our 18 year old bull imported in partnership from America) is always the first to be fed as he gets the crankiest and is the most impatient. In normal times, it is a high priority to regularly educate the younger bulls, either by handling them through the yards, penning them up, teaching them to stand while you shut gates, teaching them to stand in the chutes and dummy bucking them. There's also regular horn trimmings, drenching, weaning, branding etc. but that's not daily. There's the occasional fence mending as well unfortunately. I usually end most days sitting in the paddock with them with a wine and my camera.
How did you get into the bucking bull industry?
During the 2008 Tamworth PBR I visited Scott Maynes' place and he drove me around to show me his bulls apologising for how boring it was, but I was enthralled by them, I remember thinking how regal and majestic they were. At that stage, we were breeding a few bulls but would sell them all as weaners (or before they started causing trouble) but after that visit I picked a young bull out that I was already in love with and stood my ground and refused to sell him and it's grown from there. 
What's it like being a female in such a male-dominated industry? Do you face any particular challenges?
Lack of physical strength is a constant challenge for me. There are certain things that I'm just not strong enough to do and that is frustrating, but I usually find an unorthodox way around things and if not, then I have to ask for help, but that's also a struggle for me as well. We are very lucky with the PBR, even though it is a male-dominated industry, most of the men all have wives and/or daughters and I find that they treat all the women in the PBR the way they would like their wives/daughters to be treated. I find that I am judged on who I am rather than what my gender is and most of the time, you are probably judged more for what your bulls do rather than what you do, but the judgement is never too harsh as one thing I've learnt is you never know what a bull is going to do until he does it. I have a lot of respect for the men in the PBR, they have been doing this a lot longer than me and I have much to learn from them and they are all willing to help and teach me, which means a lot.
What does it mean to you to be part of the PBR family?
Unless you've been exposed to how close knit the PBR family is, people wouldn't understand how close we are. Some of my best friends are PBR family. We always hang out at each other's places (usually bucking bulls), eating together at the events, some of us even co-ordinate holidays to USA PBR events. There are so many genuine friendships within the PBR it never ceases to amaze me how much we are all there for each other. There have been multiple times when I have received so many calls offering help and support that it has been overwhelming. When one of our members is going through heartache, we all feel it, and we are all devastated by it. The PBR family is what makes going to events special for me. I probably wouldn't take bulls to events without the camaraderie of the PBR.
Do you have a favourite bull?
That's like asking me which of my children is my favourite. It's probably a shorter answer asking me which bulls are not my favourite. 
I have so many favourites for different reasons. Just Dandy is right up there, just because he's been around for so long and is a bit of a legend. Twisted X Disturbia is the bull I mentioned in question 2 that I refused to sell and he's been my practice bull for everything. He has indulged me a lot and forgiven a lot of my mistakes and lack of experience, he's given me so much confidence and I describe him as my soul bull. Wrangler's Rhinoplasty is another special one, he broke a bone in his foot when he was younger and he had to develop a trust relationship with me to help him survive while it healed, plus he has a crooked nose (hence the name Rhinoplasty) and every one comments on how ugly he is and the other bull's pick on him so I like to try and make him feel special. He used to get so nervous in the chute that I would sing to him to distract him, which was fine, until I had to do that at competitions too, but hey, whatever works. Twisted X Hidden Agenda is another favourite, he is only a young bull but has come a long way with his trust and confidence and he has the kindest eyes. I could list more but that's probably too many already.
Everything they say you should be with bulls I'm not, I fall in love with most of them, I call them all Darlin', I talk to them far more than what would be considered normal, I get WAY TOO attached to them, I prefer their company to most people and I usually judge them on their personalities not their performance. I'm just as happy to see them out in the paddock eating as I am watching them buck at a PBR. They just make me happy.