RICHARDSON JOINING HIS BROTHER LACHLAN ON TOUR
By: Justin Felisko Thursday, September 6, 2018 @ 9:47 AM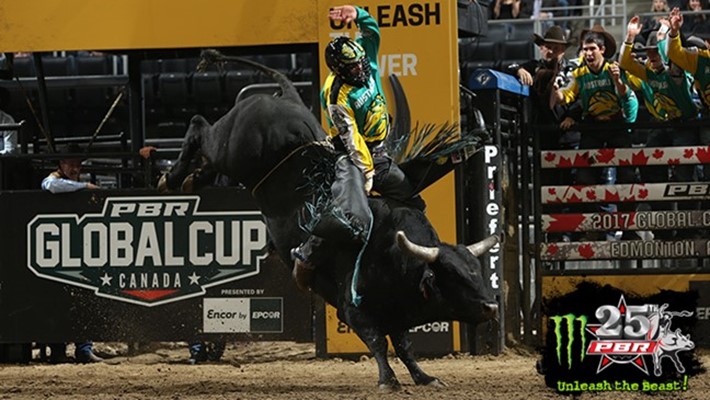 Highlights
Cliff Richardson joins brother, Lachlan on Unleash The Beast Tour this weekend.
Springfield will be Richardson's caree debut on the PBR's highest tour.
PUEBLO, Colo. – It has been more than five years since Cliff Richardson competed in the United States, but Lachlan Richardson's older brother is finally ready to join Lachlan on the PBR's premier series.
Cliff informed the PBR competition department that he will be accepting his alternate position for this weekend's PFIWestern.com Invitational, presented by Bass Pro Shops, as his strong 2018 season in PBR Australia has him on the cusp on the Top 35.
Springfield will be Cliff's career debut on the PBR's highest tour.
"It'll be good," Richardson said. "I qualified and it works in with everything."
Cliff is ranked 37th in the world standings after going 25-for-43 in Australia (58.14 percent) this year for 495 world points. He is 31-for-58 in the 2018 PBR Australia tour, which began before the 2018 world season began.
The 27-year-old is coming off a 3-for-3, third-place finish at the Blackall, Queensland, PBR Australia event this past weekend.
Richardson trails No. 35 Emilio Resende, who is out of competition because of reconstructive shoulder surgery, by only 105 points.
He flies into Los Angeles International Airport on Thursday and will arrive in Springfield later that evening.
Richardson – an over-50 percent career rider in Australia – is 12-for-15 at PBR Australia events since June 1, and he went 2-for-2 at the Sydney Global Cup.
He has drawn Proctor's Pride (0-0, PBR UTB) for Round 1 on Friday night.
RELATED: Springfield Daysheet
Fans can watch Round 1 exclusively on RidePass beginning at 8:30 p.m. ET.
The Gresford, Australia, native last competed on American soil on April 27, 2013, at the Touring Pro Division event in Cleburne, Texas. He went 8-for-20 (40 percent) that year before heading home for the remainder of the 2013 Australian season.
During the Global Cup, Richardson said he had plans on coming to the U.S. this year if he got close enough to the Top 35.
"I would love to, but at the same time I have no regrets," Richardson said of having yet made his premier series debut. "My family is the biggest supporters. If I said I am going, they would all support me. At the same time, there is nothing really holding me here. I help run the family business and I have family here. I am loving the bull riding here and life at the moment.
"I won't count anything out."
Richardson, who is also currently second in the PBR Australia standings, is set to compete in Pendleton, Oregon, at the Banner Bank PBR Classic Touring Pro Division event on Sept. 10-11 as well.
Lachlan also had success this past weekend, finishing fifth at the Glen Keeley Memorial Bull Riding (2-for-3) to crack the Top 35 of the world standings.
Lachlan was bucked off by Uncle Fester in 3.33 seconds Tuesday night at the Real Time Pain Relief Velocity Tour PBR Bucking on the Rez in Window Rock, Arizona.
Cliff is one of eight alternate or exempt riders competing in Springfield.
Also competing is No. 36 Matt Triplett, No. 37 Alisson de Souza, No. 39 J.B. Mauney, No. 40 Cody Campbell, No. 63 Lindomar Lino (final injury exemption), No. 75 Eli Miller (Velocity Tour invite) and No. 105 Zane Cook(Native American invite).
Not competing in Springfield is No. 18 Valdiron de Oliveira (chest), No. 21 Guilherme Marchi (personal), No. 25 Alex Marcilio, No. 28 Lonnie West(shoulder), No. 33 Brock Radford (knee) and No. 35 Emilio Resende(reconstructive shoulder surgery).
Marcilio separated a rib Tuesday night during his 6-second buckoff on John.
West was injured at the Touring Pro Division event in Eureka, Montana, on Aug. 25 attempting to ride Hello Darlin.
Miller receives the invite based on his victory in Wheeling, West Virginia, on March 16.
Triplett is 2.5 points out of the Top 35.
World leader Kaique Pacheco finished in second at the Window Rock event to extend his world lead to 146.67 points on No. 2 Claudio Montanha Jr., who finished in third place.
Pacheco has drawn Uncle Gangster (1-0, PBR UTB) for Round 1.
Follow Justin Felisko on Twitter @jfelisko