BURTENSHAW READY TO LEAVE INJURIES IN REARVIEW MIRROR
By: Justin Felisko Friday, August 31, 2018 @ 8:53 AM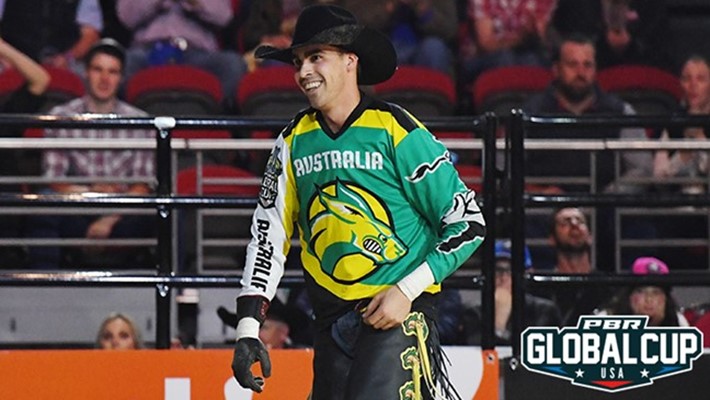 Highlights
Nathan Burtenshaw has been hampered by injuries for much of the season but won't let that slow him down before the 2019 PBR Global Cup.
Burtenshaw and Lachlan Richardson were the first two riders named to Team Australia by coach Troy Dunn.
Recovering from his latest injury, Burtenshaw hopes to compete next at the Real Time Pain Relief Velocity Tour PBR Bucking On The Rez on Sept. 4.
PUEBLO, Colo. – It was only two hours before Nathan Burtenshaw was hung up and being thrashed around by Soup in a Group in Nashville two weeks ago that the 24-year-old was trying to brush off another injury.
Burtenshaw had sustained an arm stinger a night earlier when he was bucked off and hung up on Mr. Valentine in 2.19 seconds.
Burtenshaw then was able to eliminate world leader Kaique Pacheco from the Music City Knockout when he lasted 6.29 seconds on Handsome Jeff.
However, Burtenshaw seemingly took on the role of fortune teller as he sat inside the locker room inside Bridgestone Arena the next day.
"It is more annoying," Burtenshaw said of his ongoing laundry list of injuries this season. "You just get going good and then something happens."
A little later that night, it happened again.
Burtenshaw had just advanced to the Finals of Bracket C when the clock hit 4.22 seconds, but that was before near hell broke loose on Burtenshaw.
Soup in the Group flipped Burtenshaw over, head butting the cowboy in the process, and then fell down and rolled over Burtenshaw's ankle.
If not for the Matador Jerky Bullfighters, there was a good chance that Soup In A Group would have rolled back over Burtenshaw, crushing the cowboy.
Burtenshaw was unable to compete in the rest of the tournament, opening the door for Cody Teel to advance instead and ultimately win the final PBR Major of the season.
"It's doing much better," Burtenshaw said last week after being named to Team Australia for the 2019 WinStar World Casino & Resort Global Cup USA. "(The ankle) is purple. Maybe just a little ligament damage, a horse fell on it two years and it did the same thing."
It was the latest bad-break for the Australian bull rider who is having a career-year despite continuous injuries.
The Coonamble, Australia, native had just crossed into the Top 30 of the world standings in Glendale, Arizona, at the end of March and appeared well on his way to a strong finish to the first half.  
However, Burtenshaw wound up breaking his collarbone at the next event inside the Tacoma Dome in Washington when Hell Bound bucked him off in 3.05 seconds.
Burtenshaw then returned four months later only to tear his left ACL in his first event back in Cairns, Australia.
Even with his knee shredded, Burtenshaw went 3-for-3 for Team Australia at the Sydney Global Cup.
Three-time World Champion Adriano Moraes commended Burtenshaw for his "mental toughness" during the Sydney Global Cup.
In fact, despite all of the injuries, Burtenshaw is well on his way to qualifying for the 2018 PBR World Finals. The No. 24 rider in the world standings is a career-best 10-for-30 (30 percent) in 11 premier series events.
"It hasn't been crazy, but it has been a hindrance," Burtenshaw said. "I had just started riding really good before I did my collarbone. It is just taking a bit to get going again."
Burtenshaw's toughness stood out to 1998 PBR World Champion Troy Dunn, and the second-year Global Cup coach named Burtenshaw and Lachlan Richardson to Team Australia for the next Global Cup on Feb. 9-10 in Arlington, Texas.
Dunn messaged Burtenshaw the news of his selection earlier this month.
"I won't worry about that until February next year," Burtenshaw said. "I am definitely and always excited to go to these events. Global Cup should be good. Hopefully it works out. We should have a pretty decent and respectable team.
"Sometimes you can find it hard to get it up and go to a lesser event, but these ones I still find the energy to get up and go."
Dunn is excited to get another shot to be at the helm for the Australians, who finished runner-up to Team Brazil in Sydney.
"I feel most privileged to be representing the boys and the Australian colors," Dunn said via email. "Anytime you get to do this job there's a lot of responsibility to shoulder and pride on the line, particularly because it's on the world stage. So I will be taking it to heart and leaving no stone unturned." 
Burtenshaw is hopeful that he will be able to ride next week (Sept. 4) in Window Rock, Arizona, at the Real Time Pain Relief Velocity Tour PBR Bucking On The Rez, presented by Navajo Parks and Recreation Department.
Fans can watch the event exclusively on RidePass beginning at 10 p.m. ET.
Follow Justin Felisko on Twitter @jfelisko