A YEAR AFTER BREAKING HIS BACK, BURTENSHAW HAS EYES ON WORLD FINALS
By: Justin Felisko Thursday, September 21, 2017 @ 10:01 AM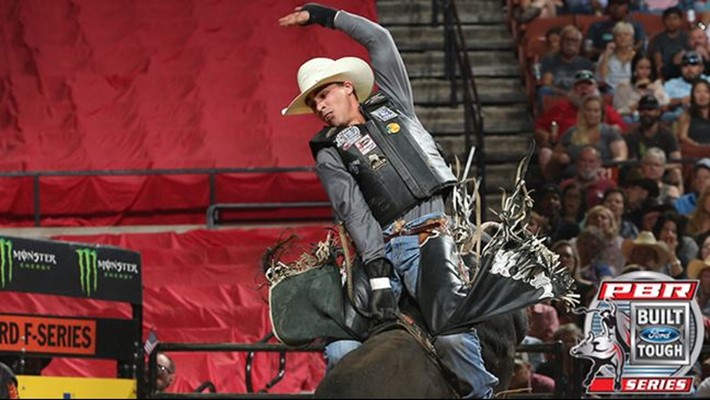 PUEBLO, Colo. – Nathan Burtenshaw slowly lowered himself and his long legs into the bucking chutes inside Oracle Arena on Jan. 7.
The 6-foot-2-inch bull rider could feel the twitching and brute power of Spitfire below him as he prepared for his first bull riding action in the United States in eight months.
Burtenshaw had sustained a season-ending broken back – a clean break of his L1 vertebrae – on April 23 at the Real Time Pain Relief Velocity Tour event in Winston-Salem, North Carolina, last season and the 23-year-old bull rider was ready to make his 2017 debut on American soil this past January.
Well, at least so he thought.
Burtenshaw's mind began to race as he tried to readjust inside the chutes with Spitfire.
The Coonamble, Australia, native thought back to that spring night when Ruff'em Up Tuck did more than just rough him up.
Burtenshaw was on his way to making a qualified ride inside Chesapeake Energy Arena before he got tossed off the back of the bull and sent crashing to the ground onto his shoulders. Burtenshaw's landing led to him crumbling up like a folding chair as Ruff'em Up Tuck stepped flat on Burtenshaw's lower back.
"It broke my L1 vertebrae straight through," Burtenshaw recalled. "It was a clean break. I was pretty lucky. I walked out of the arena, packed my bag up and my buddies drove me to the hospital."
Burtenshaw didn't need to get surgery, but he had to sit out for 14 weeks and wear a back brace that went from the top of his belt buckle all the to his collarbones.
Eight months later and Burtenshaw was set to nod for the gate for the first time in North America.
"I started thinking a bit and it kicked in," Burtenshaw said. "To hold down the side of one, you are more worried about being jumped on again."
Burtenshaw didn't let his fear overwhelm him, he eventually nodded for the gate before Spitfire bucked him off at 4.53 seconds.
Three days later, Burtenshaw rode Have a Party for 82 points at the Velocity Tour event in Denver and Legit Stuff for 82.5 points the next day for a seventh-place finish.
"I decided to ride my way through (the fear)," Burtenshaw said. "It probably took about two months, I reckon, to finally get it out of the back of my head and start riding good."
"It is pretty hard to come back from a broken back," Burtenshaw said this past weekend at the Wrangler Long Live Cowboys Classic, presented by Frontier Communications, in Austin, Texas. "Just the mental side of things was the hardest. I didn't have the run I wanted to for the first six months I was over here, but just as I started to go home I started to ride pretty good and I was fortunate to have done pretty good at home."
Burtenshaw really upped the ante this past summer in his bid to make it to the Built Ford Tough Series by winning the 2017 PBR Australia Finals in Sydney.
He became the first rider to ever make 8 seconds aboard Fully Locked & Loaded when he rode the tough-as-nails Aussie bull for 88.75 points to win the event average.   
Not only did Burtenshaw win the biggest event in PBR Australia, he also won the prestigious bull riding title at the Mount Isa Mines Rotary Rodeo three weeks later.
The third generation bull rider's performance was no surprise to 2017 PBR Australia champion Troy Wilkinson. The two aspiring bull riders grew up competing alongside each other at various steer ridings and amateur bull ridings.
"Burt is a talented, young guy," Wilkinson said. "He has been competing over here for the last few months. He went home to Australia this summer and he won the PBR Finals in Sydney. He was the only guy to ride three and he rode a bull that had never been ridden in the short go. That was a pretty good accomplishment for him. Then he went and won the biggest rodeo in Australia at Mount Ida."
The two victories spearheaded Burtenshaw on his latest run, which included his debut on the PBR's prestigious Built Ford Tough Series.
Burtenshaw has only continued to rise up the ranks by riding South Texas Gangster (87.5 points) last weekend for his first qualified ride and round win at the highest level of PBR competition.
"He is one of the best in Australia," Wilkinson added. "This is where he wants to be and is good enough to be as we saw on that bull."
Burtenshaw finished in fifth place overall. The 120 world points he earned pushed him from 44th in the world standings to the always crucial No. 35.
The 23-year-old heads into this weekend's Buck Off The Island, presented by Cooper Tires, an extremely slim 2.92 points ahead of No. 36 Cody Rodeo Tyler.
Burtenshaw has drawn Screamer (4-1, BFTS) for Round 1 on Saturday night.
Fans can watch all of Round 1 exclusively on PBR LIVE beginning at 6:30 p.m. ET.
"The hardest part for me is probably mentally trying too hard," Burtenshaw said. "I need to keep doing what I am doing and just try and string bull ride after bull ride. The more bulls I ride the more I am going to get paid."
Burtenshaw admitted that earlier this year he was paying way to much attention to the standings and trying to get on tour.
"I was thinking if I win, I would be on tour," Burtenshaw said. "I felt myself looking at that more than riding bulls. When I went back to Australia, I vowed to myself to not look at the standings and draws and just worry about what I have to do tonight and just ride bull for bull.
"The rest will take care of itself." 
Follow Justin Felisko on Twitter @jfelisko